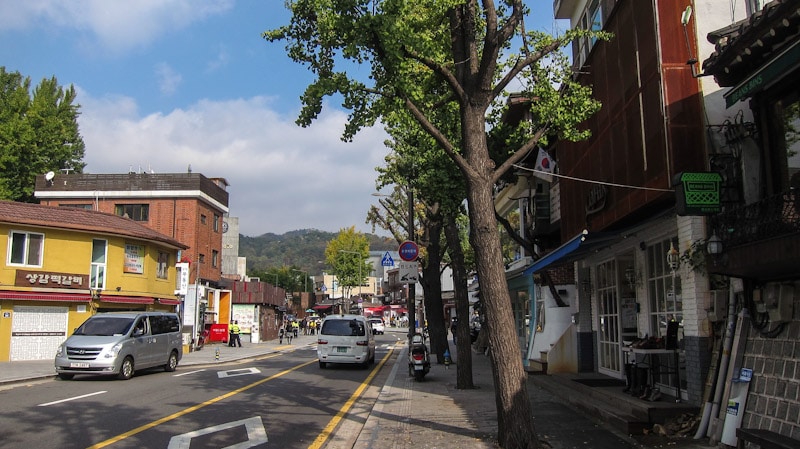 Samcheongdong is a trendy and upscale neighborhood of Seoul that lies in a scenic area just east of Gyeongbokgung Palace and Cheong Wa Dae (Blue House). This youthful neighborhood is named after the clean and beautiful water, mountains, and residents in the area.
Surrounded by hills, the neighborhood is well known for both its traditional hanok homes and for modern and chic art galleries, quirky shops, and upscale restaurants that are scattered all around the main street, Samcheongdong-gil.
At the very top of the street is small Samcheong Park, which in 1940, became one of the first designated parks in all of Korea.
Many of the hanok have actually been converted into theses galleries, shops, and restaurants. This is unique only to Samcheongdong and is an important part of the history and culture of Seoul and Korea.
Samcheongdong is a popular place to visit for both tourists and locals alike. No where else in Seoul, a city surrounded by mega shopping malls and millions of people, can you find such a laid back environment.
At a time, the area was not well known even though it was located between two palaces. The secret is now out. If you visit on a weekend, be prepared to rub shoulders with other camera toting tourists and locals who want to enjoy the unique area filled with quirky shops and small alleyways. Even so, the area is well worth a visit though you might have a hard time finding peace and quiet.
The neighborhood has a unique and small town charm to it which is rare for such a large city. With so much character and ambiance, the neighborhood of Samcheongdong is a great place to shop, eat, drink, or just wander around while escaping from the stress of the big city.