Only have one day in Seoul? No problem. Here is an itinerary for those who have only one day in Seoul, including those on a layover from Incheon International Airport.
Gyeongbokgung Palace
Gyeongbokgung Palace was originally built in 1395 and served as the first and main palace of the Joseon Dynasty. Over the years, the palace has been attacked, destroyed, abandoned, and rebuilt many times. Almost have of the palace buildings have since been reconstructed.
Read more about Gyeongbokgung Palace
Myeong-dong
Myeong-dong is a world famous shopping district that is packed at all hours of the day. The best time to visit is at night when the streets are packed with people looking to party, eat tasty street food, and spend as much money as they can on the latest fashion items.
Cheonggyecheon Stream
Cheonggyecheon Stream is a beautiful stream and nature area that cuts through the heart of the city that was once an eyesore to the city and elevated highway. In 2003, the 8.4 kilometer (5.2 mile) waterway was restored to its original beauty.
Read more about Cheonggyecheon Stream
Insa-dong
Insadong is a popular neighborhood in the heart of Seoul that is lined with art galleries, wooden tea houses, restaurants, cafes, and small shops selling arts and crafts that were once owned by merchants, bureaucrats, and government officials during the Joseon Dynasty.
Samcheong-dong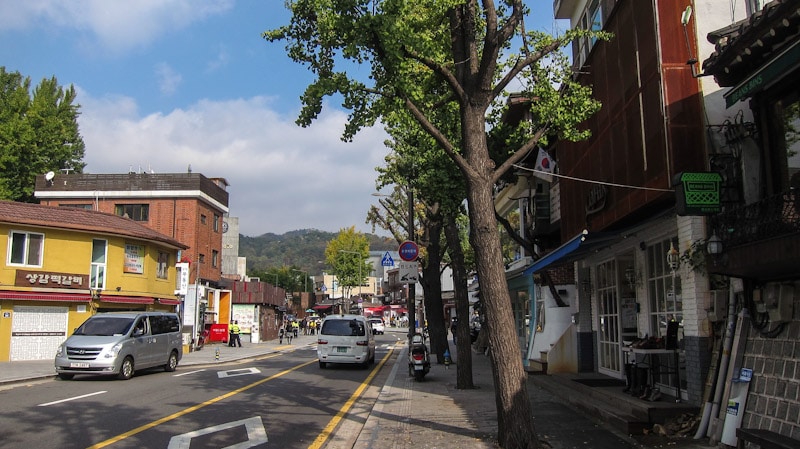 Samcheong-dong is a trendy and upscale neighborhood of Seoul that lies in a scenic area just east of Gyeongbokgung Palace and Cheong Wa Dae (Blue House). It is named after the clean and beautiful water, mountains, and residents in the area.
Read more about Samcheong-dong