Suwon is the capital of Gyeonggi-do. The city is located 30 kilometers (19 miles) south of Seoul and has a population of over one million.
Throughout its history, the city has been known by different names. In ancient times, it was known as Mosu-guk. During the Three Kingdoms era, it was known as Maehol-gun. In 757, it was known as Suseong-gun and in 940 it was known as Suju. In 1413, King Taejong renamed the city to Suwon.
During the early stages of the Korean War, the city fell into North Korean control. The Battle of Osan, between forces of the United States and North Korea, occurred nearby. By the end of the war, Suwon was back in control of the south after changing hands four times.
Today, the city is well known for its stone fortress, Suwon Hwaseong, which was built in 1796 by King Jeongjo in order to guard the tomb of his father, Prince Sado. Jeongjo also unsuccessfully tried to move the capital city here.
How To Get To Suwon From Seoul
BY SUBWAY LINE 1
Take Subway Line 1, in the direction of Sinchang, to Suwon Station.
Line 1 trains may go to different locations, so be aware that you might need to change trains. If you are unsure, look on the side of the train and it will show its destination in Korean and then English. You want to be on a train that has a destination towards Suwon or Sinchang.
This option is quite slow, taking about one hour, but is the most economical.
BY NOORIRO TRAIN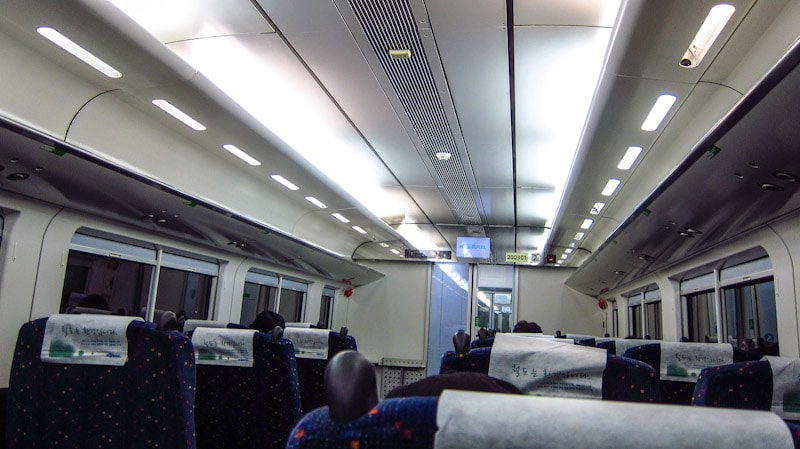 A much better option is to take the Nooriro train. It takes about 34 minutes and cost 2,700 won. Other departures take a few minutes more. The ride is much more comfortable than taking the subway and you can travel nonstop from Seoul Station to Suwon Station.
Nooriro Fares
Adult Standard Class : 2,700
Child Standard Class : 1,300
BY KTX
The fastest and most expensive way is by KTX. KTX trains stop in Suwon on the way to Busan. Travel time from Seoul Station to Suwon Station is as fast as 25 minutes while other departures are a few minutes slower.
KTX Fares
Adult 1st Class : 13,200
Child 1st Class : 9,000
Adult Standard Class : 8,400
Child Standard Class : 4,200
What to see in Suwon
Hwaseong Fortress
Hwaseong Fortress is a fortified wall surrounding the center of Suwon to honor Prince Sado, the father of King Jeongjo. In 1789, the remains of Prince Sado, who was sentenced to death by his own father King Jeongjo, were moved to this location. A fortress known as Hwaseong was ordered to be built to honor and protect the remains of Sado.
Read more about Hwaseong Fortress