The Noryangjin Fish Market is a large and vibrant fish and seafood center located in the Noryangjin-dong neighborhood near 63 Square (63 Building) and Han River. The market is open 24 hours a day but is at its best early in the morning during the auctions when the market comes alive with amazing and interesting seafood. The official name is Noryangjin Fisheries Wholesale Market.
If it swims in the ocean and it's edible, chances are you will find it for sale here by some 700 vendors. You can see the fresh catch of the day before it ends up on the tables of restaurants throughout Seoul.
The market dates back to 1927 when it was located in downtown Seoul near Seoul Station. In 1971, it was relocated to its current location on the banks of the Han River on the outskirts of Yeouido. Today, it is the largest and oldest seafood market in Korea with a floor space of about 6,000 square meters (64,583 square feet) dedicated to seafood.
The joy of this bustling area is simply wandering around the soggy concrete from stall to stall discovering bubbling tanks full of all sorts of strange creatures that you may have never seen before. In these tanks you will find fresh fish, octopus, lobster, clams, salmon, tuna, prawns (shrimp), mussels, stingrays, halibut, mackerel, anchovies, blue crabs, and much more. You can also find more rare varieties of seafood such as snow crabs and sea snails.
If you arrive early enough, you can witness the busiest and noisiest hours of the market. Early in the morning around 4am to 6am, the wholesalers fight over the freshest fish during the morning auctions. This is when the market comes alive.
One of the most interesting types of marine life found here is the sea slug or sea cucumber. These strange plump looking creatures wiggle and look anything but edible with their slimy exterior. Sea slug is usually eaten raw after the intestinal tract is removed. This one definitely for the brave. If you can eat this, you can eat just about anything.
If you are hungry and want to experience one of the freshest meals of your life, you can purchase seafood and have it prepared at one of the restaurants upstairs on the northern side of the complex. For about 12,000 won, you can have raw fish sliced into a fresh sashimi meal, known as hwae or hoe. Add a bottle of soju or three, and you will have one of the best and most memorable breakfasts you could possibly have anywhere in the world.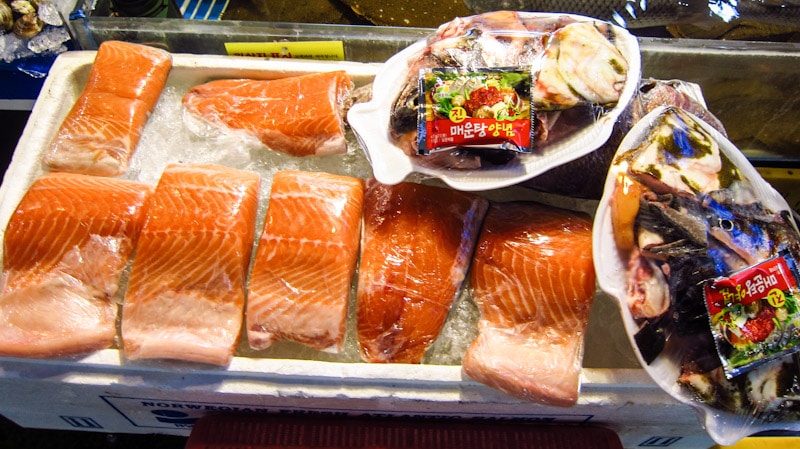 If you prefer your seafood cooked, you can have it grilled with salt over an open flame and served with a side of rice. For a few more thousand won, you can have maeuntang, which is a hot and spicy soup made with the seafood leftovers including the bones.
One restaurant that specializes in raw fish, crab soups, and maeuntang is Busan Ilbeonji. This modest restaurant ran by Mrs. Moon is located on the 2nd floor of the fish market. Meals range from 5,000 to 40,000 won and include a good selection of banchan (side dishes).
Though this is busy facility, seafood sellers are quite friendly to tourists, even with the market being off the main tourist path.
You might find it difficult and confusing trying to pick out something to eat when the seller does not speak English and you have no idea what the seafood even is. Through the use of hand gestures and calculators that show you the price, you should have no trouble purchasing fresh seafood. If the price is too much, just walk away, or pretend to walk away and see if the price is lowered.
Many of the stalls are unnamed and unnumbered except for a phone number on some. This can be confusing but just look for whatever looks fresh and gets your attention. The food is cheap so don't be scared and be adventurous. Odds are you will leave with a meal to remember.