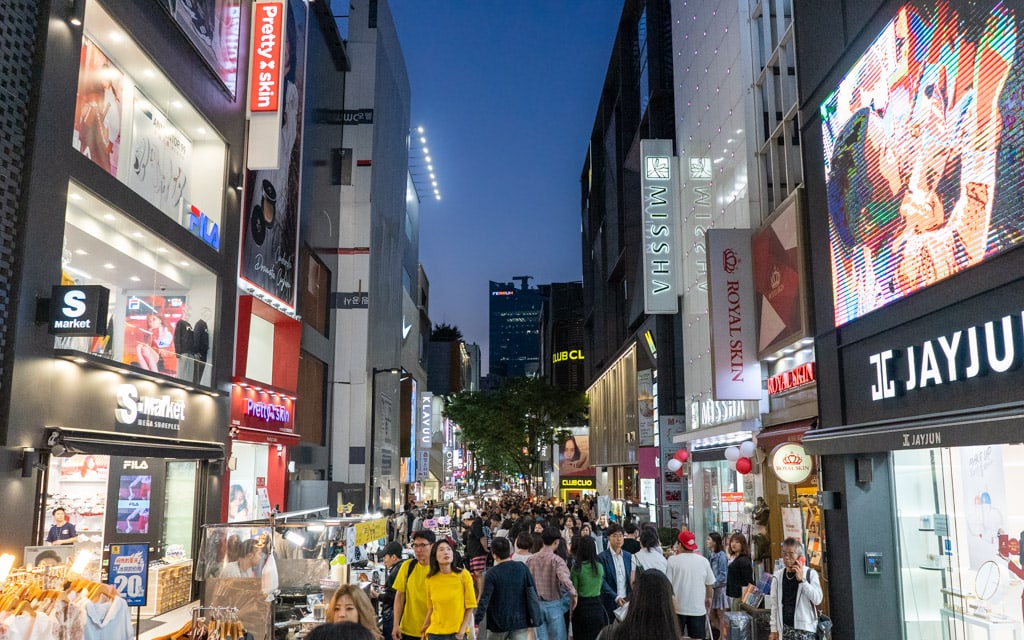 If you are looking to shop and eat then start with Myeong-dong. This popular district features street food carts, major shopping malls, and entertainment. The dense grid of streets found in this bustling neighborhood are packed with people at all hours of the day looking to enjoy some of the best shopping, street food, and nightlife in all of Korea.
Along with locals, Myeong-dongis packed with tourists from around the world with many coming from other Asian countries such as Japan and China. It is estimated that almost 2 million people visit the area every day.
After the Korean War, the economy of South Korea expanded rapidly and so did the population of the city. Many department stores, shops, restaurants, and shopping centers set up businesses in the Myeong-dong area to keep up with this increasing demand.
From street carts to small boutiques to major department stores, you can find just about anything related to clothes and the latest fashion trends. Many of the fashion items found in the area are geared towards youth. These individuals mainly include petite female Japanese tourists and Korean students who flock to the area each night looking for the hottest new fashion trends and beauty items.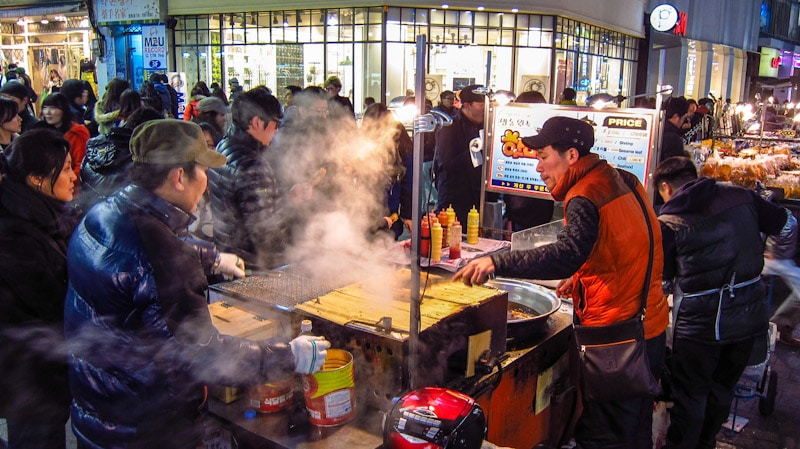 Myeong-dong is one of the most expensive shopping districts in the world. If you are looking for the best international and Korean brands and shops such as Forever 21, Lacoste, Apple, Nature Republic, The Body Shop, then this is your destination.
Anyone who loves to shop and has money to spend can find an almost unlimited number of mid to high-end retail stores from Louis Vuitton to large department stores such as the Lotte Department Store and Shinsegae Department Store.
You can also find great bargains if you are willing to hunt for them. To find great deals, look past the large department stores and most major brands towards the street carts and smaller shops found tucked away in smaller alleys.


Even if you don't want to shop, Myeong-dong is a destination in itself. It's a great area to find many types of restaurants and tasty and unique street foods. The best part about street food here is that you can walk from stall to stall finding whatever looks and smell the best. Street food is cheap, tastes great, and will keep you warm on a cool night.
The best time to experience Myeong-dong is after the sun goes down when the streets are packed, the smells of street food make your mouth water, and the neon lights are brightly lit up.
A simple but great experience involves simply wandering around and people watching on the many traffic-free alleys and streets.
Though Myeong-dong is best known for its shopping, nightlife, and eating, it does have Myeongdong Catherdral, one attraction that should not be missed. The cathedral, built in Gothic style, is one of the most important Catholic churches in Korea.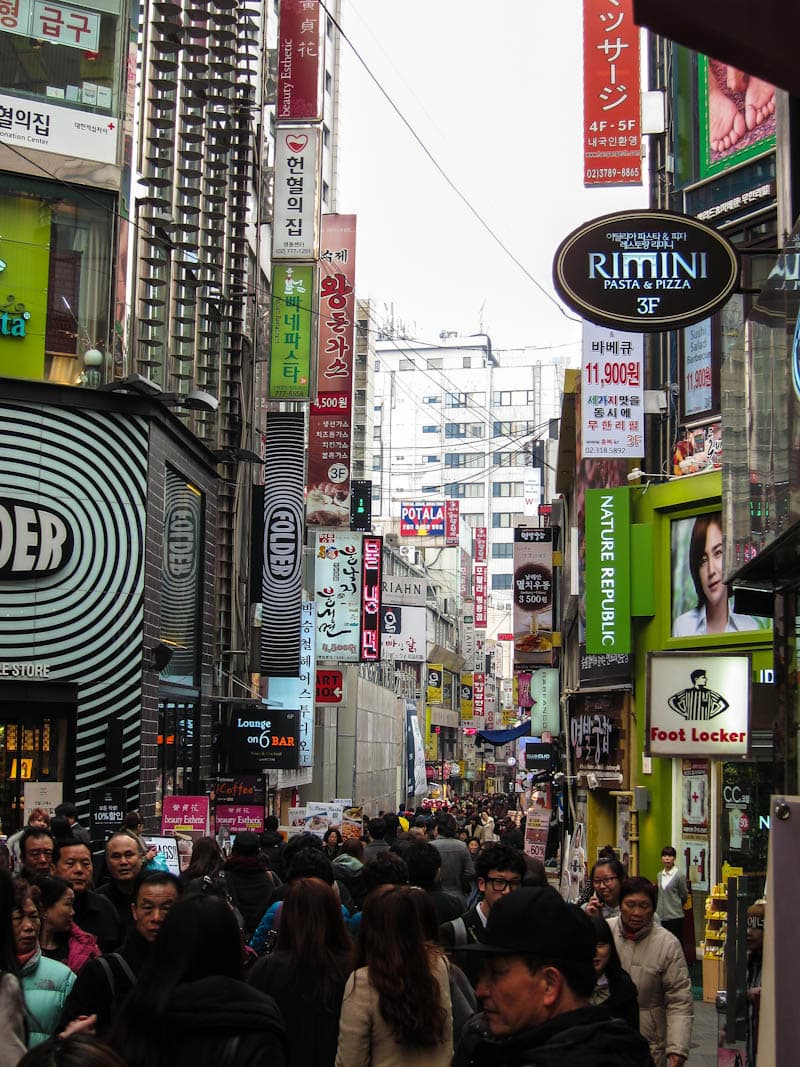 Hours
24 hours
Admission
Free
Getting Here
The center of Myeong-dong can be reached from Exit 6 of Myeongdong Station (Seoul Subway Line 4).
Map
Additional Resources
Save money while exploring Seoul with Rakuten's cashback program. By booking hotels through Rakuten, visitors can earn cashback rewards and enjoy significant savings. Exclusive partnerships and deals make stays in Seoul more affordable, freeing up funds for attractions, dining, and other experiences. I use Rakuten for cashback on all of my hotel stays in Seoul.
If you sign up using the link below, you will get $30 cashback after your first purchase.
Klook is a reliable online platform offering discounted tickets and reservations for attractions and services in Seoul. It covers theme parks, museums, transportation, WiFi, tours, and more. Travelers can save time and money by booking through Klook's user-friendly interface, with secure transactions and helpful customer support.
If you sign up using the link below, you will get $5 off your first order.
Learn more about Klook