Jongmyo Shrine is the supreme shrine of the state. Royal ancestors tablets are enshrined here and memorial services are performed for kings and queens of the Joseon Dynasty. Construction on the Confucian style shrine was completed in 1395 by the orders of King Taejo.
Taejo, the first Joseon king, built the shrine to honor deceased kings and queens. He also ordered construction of Gyeongbokgung Palace, which was built concurrently.
Know Before You Go
If you are visiting on weekdays or Sundays, you must join a tour. If you want to visit without a guided tour, plan on visiting on Saturdays.
Entrance to the shrine is included with the Integrated Ticket of Palaces.
In 1395, Jeongjeon, the main hall, was first built with seven spirit chambers. The most prestigious kings who lived a life of virtue were enshrined in Jeongjeon.
In 1421, Yeongnyeongjeon Hall (Hall of Eternal Peace) was built with six spirit chambers.
The original shrine was then destroyed by the Japanese invasion in 1592. Luckily, the tablets were saved.
Jeongjeon Hall was rebuilt in 1608 and featured eleven spirit chambers. Over the years, the building has been expanded. In 1726, the hall was expanded to fifteen spirit chambers. It was expanded once again to 19 spirit chambers in 1836.
Today, Jeongjeon houses 49 tables in 19 spirit chambers of past kings. The tablets of King Yeonsangun and King Gwanghaegun are not located here, as they were ousted from the throne.
Jeongjeon Hall is also one of the longest wooden buildings in East Asia.
Three years of mourning followed the death of a king or queen. After this period, a memorial tablet for the deceased was enshrined at Jongmyo. When more space was needed, the shrine was expanded.
Jongmyo is one of the only shrines in Asia that has preserved its royal shrine. To this day, it continues the same traditions of honoring them through ancestral rites known as Jongmyo Jaerye. Jongmyo Jaerye is performed on the first Sunday in May, and is one of the oldest ceremonies in the world.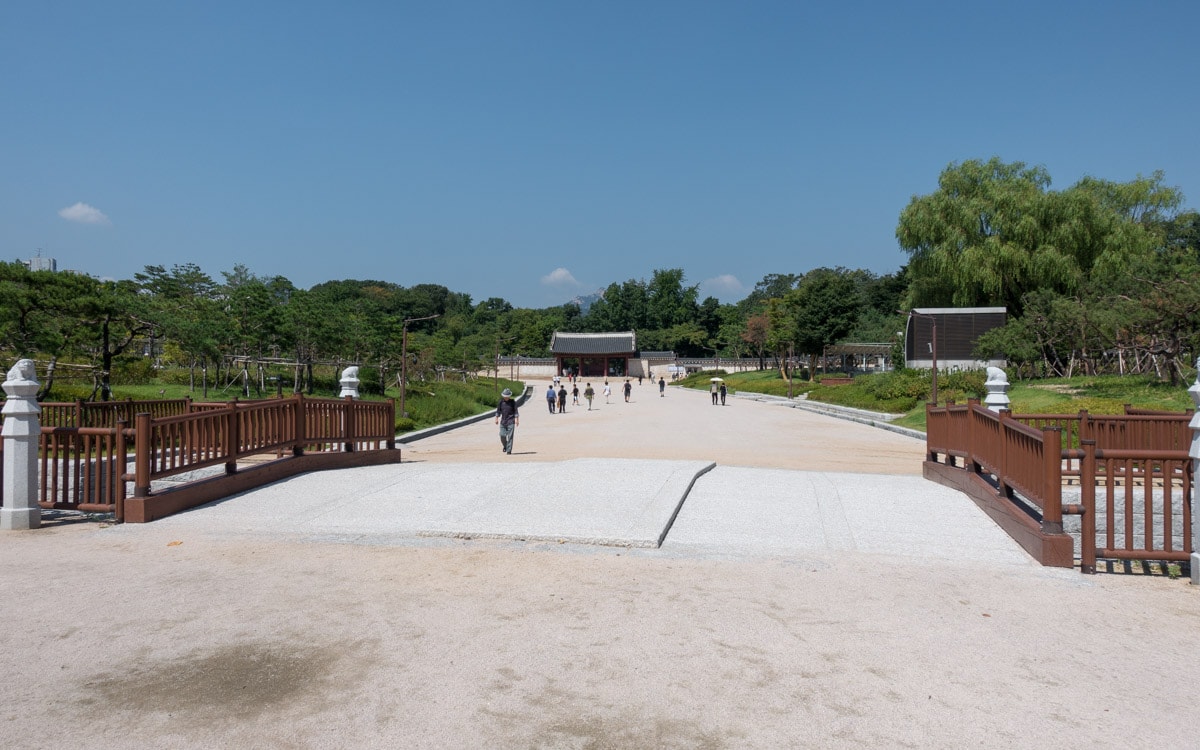 Jongmyo Jerye, or the Royal Ancestral Rite, was an important state ritual conducted by the king five times a year at Jeongjeon Hall and two times a year at Yeongnyeongjeon Hall. These were attended by the prince, military government officials, and high ranking civilians and involved music, singing, and dancing.
The design of Jongmyo as seen today is simple. It emphasizes serenity and the deep meaning of life and death of Joseon Dynasty authority.
Jongmyo Shrine became a UNESCO World Heritage site in 1995.
Akgongcheong
Akgongcheong was the court musician's pavilion, dressing room, and where musicians would rehearse songs that would be played during rituals at Jongmyo Shrine. At this pavilion, musicians would rehearse songs that would be played during rituals.
Chanmakdan and Seongsaengwi
Chanmakdan is a raised stone table that was used as the food inspection table. Food was examined here before being used during rituals and ceremonies.
Once food was prepared by the kitchen, it was placed on top of this stone inspection table where it was inspected to ensure that it was prepared properly.
After being inspected and approved, the food was then placed on altars around the shrine where it was to be used for rituals and ceremonies.
Nearby is another inspection table known as Seongsaengwi. It was used for inspecting animals such as cows and pigs before rituals.
Chilsadang Shrine
Chilsadang is a place of prayer and worship. It is an ancestral shrine and location of spirit tablets for the seven gods of heaven at Jongmyo Shrine. The gods enshrined here include the gods of gates including entrances and exits, halls, kitchens, and other rooms, roads, and those who have died of diseases.
People came here to pray to the gods hoping that royal and state affairs would occur without difficulties or problems.
These rituals to the seven gods of heaven involved both traditional religion practices and Confucian philosophy.
Gongminwang Sindang Shrine
Gongminwang Sindang Shrine is a small shrine that honors King Gongmin and his wife Nogukdaejang Gongju, a princess from Mongolia. King Gongmin, born on May 23, 1330, was the 31st monarch of the Goryeo Dynasty.
During his reign from 1351 to his death in 1374, he implemented sweeping reforms and defeated Yuan China. His actions restored power and territory to the Goryeo Dynasty.
A paining depicting a horse found here today is said to have been painted by King Gongmin himself. He was thought to be a talented artist and painter.
King Gongmin is enshrined in Jongmyo Shrine. To this day, it is unknown why a king of the Goryeo Dynasty is enshrined in the supreme shrine of the Joseon Dynasty.
Gongmin was killed in his sleep by Choe Man-saeng over a dispute of an affair with a concubine on October 27, 1374.
Gongsindang (Hall of Meritorious Officials)
Gongsindang (Hall of Meritorious Officials) is the location of the tablets for those who assisted the enshrined kings and queens at Jongmyo Shrine. There are 83 tablets enshrined here.
When the building was originally built it had three chambers. It has since been expanded to 16 chambers.
The design of Gongsindang is beautiful but generally artless and plain compared to nearby Jeongjeon Hall and Yeongnyeongjeon (Hall of Eternal Peace).
Hyangdaecheong
Hyangdaecheong is a storage room that held important supplies such as ritual paper, incense, and offerings used during ancestral rituals and sacrifices. On the day before an ancestral ritual, the king would send an official to Hyangdaecheong to retrieve supplies and utensils needed fro the ceremony.
Officials would also meet and wait at this location before they would minister ancestral rituals.
Jaegung Area
The Jaegung Area is composed of three buildings used by the king and crown prince to prepare for ancestral rituals at Jongmyo Shrine. The three buildings are Eojaesil, Sejajaesil, and Eomokyokcheong.
The king and crown prince would enter through the main gate. While here, they would clear and purify their minds, bodies, and souls before ancestral rituals. After, they exited though the west gate into Jeongjeon Hall to perform the rituals.
Eojaesil, also known as Jaegung or Eosuksil is where the king stayed and made preparations before ancestral rituals at Jongmyo Shrine.
Inside Eojaesil is a portable throne or compact chair that was used to move the king around the shrine grounds. There is also a folding screen used during special occasions decorated with peony. Peony, which is a type of flowering plant, is a symbol of wealth and honor.
On the right side of the building is a model of Emperor Gojong who is wearing the ceremonial emperor clothing after proclaiming the establishment of the Daehan Empire in 1897. There are two types of ceremonial clothing, one for the emperor with 12 ornaments and one for the king with 9 ornaments.
Sejajaesil is where the crown price stayed and made preparations before ancestral rituals. Inside Sejajaesil is a ten piece folding screen depicted with ritual vessels.
Sejajaesil lies to the east of Eojaesil.
Eomokyokcheong was a bath facility for the king and crown prince used during preparations before ancestral rituals. Inside Eomokyokcheong is a small carriage or palanquin that was used by the king to move around the shrine.
Eomokyokcheong lies to the west of Eojaesil.
Jejeong Well
Jejeong Well is a stone shrine well that was used to supply water needed before and during ancestral rituals and sacrifices at Jongmyo Shrine. Jejeong, meaning "ritual well", supplied clean water from the preparation of food and animals used during ritual. It was also used to cleaning those who took part in the ceremonies, including the king.
The well is located next to the Chanmakdan and Seongsaengwi inspection tables.
Jeongjeon Hall
Jeongjeon Hall is the main hall and most important structure at Jongmyo Shrine. It is the location of the memorial tablets of 19 Joseon kings and queens. At 109 meters (357 feet) in length, the building is said be the longest single wooden structure in the world.
When founded in 1395, it only held seven spirit chambers. Over the years, many alterations and additions occurred. In 1546, the building was expanded to 11 spirit chambers. In 1726 it was expanded to 15 chambers and finally once more to 19 chambers in 1836. At a time it was believed this building was the longest in the world.
In front of the building lies a massive stone courtyard surrounded by walls on all sides. This is known as a woldae. Yeongnyeongjeon (Hall of Eternal Peace) has this similar feature.
Three gates allow access into the courtyard. The southern gate is where it was believed spirits entered and departed. The eastern gate was reserved for the king and ritual officers. The western gate was reserved for ritual performers such as musicians and dancers.
The design of this building appears to float over the stone courtyard. It is a perfect example of the beauty of Korean classical architecture.
On January 8, 1985, Jeongjeon Hall was added to the list of National Treasures of South Korea (Number 227).
Yeongnyeongjeon Hall (Hall of Eternal Peace)
Yeongnyeongjeon Hall was rebuilt in 1608. It was originally built with ten spirit chambers and was also expanded over the years. In 1667, the hall was expanded to 12 spirit chambers. It was expanded again in 1836 to 16 spirit chambers.
Today, Yeongnyeongjeon houses 34 tablets in 16 spirit chambers, including four generations of King Taejo's ancestors and those crowned kings after their death.
Video of Jongmyo Shrine
Hours
March-September : 9:00-18:00
October-February : 9:00-17:30
Ticket office closes 1 hour before closing time.
Except for Saturdays, visitors to Jongmyo Shrine must join a guided tour.
Guided tours in English are at 10:00, 12:00, 14:00, 16:00.
Closed on Tuesdays
Admission
Adult (19+) : 1,000
Child : 500

This palace is included with the Integrated Ticket Of Palaces.
Getting Here
Option 1
Take Subway Line 1 to Jongno-3-ga Station (Exit 11).
Option 2
Take Subway Line 3 or Line 5 to Jongno-3-ga Station (Exit 8).
Map
Addtional Resources
Klook is a reliable and convenient online platform that offers discounted tickets and reservations for various tourist attractions and services in Seoul. From admission passes to theme parks and museums to transportation, wifi routers, sim cards, tours, and train tickets, Klook provides an extensive selection of options for travelers to choose from. With Klook, travelers can easily and securely book their preferred activities and services at discounted prices, saving them time and money. Klook's user-friendly interface and customer support team also ensure a seamless booking experience for travelers.

If you sign up using this link, you will get $5 USD off your first order.