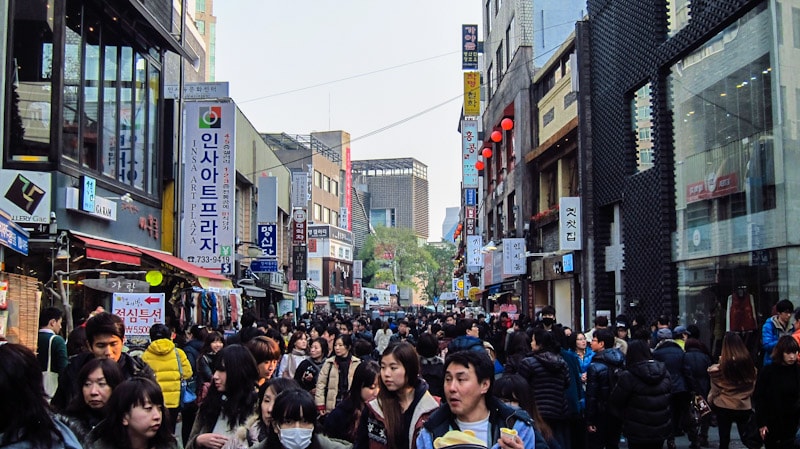 Insa-dong is a popular neighborhood in the heart of Seoul that is often visited by locals and tourists wanting to experience traditional culture of Korea. Streets and narrow back alleys are lined with art galleries, wooden tea houses, restaurants, cafes, and small shops selling arts and crafts. The main street, Insadong-gil, runs for 700 meters from Tapgol Park in the south to Anguk-dong Rotary.
Many of the buildings in the area were once owned by merchants, bureaucrats, and government officials during the Joseon Dynasty (1392–1897).
Dohwawon, the National Department of Painting, was once located in Insadong. For centuries, this department created royal paintings and woodwork that were found in many of the royal palaces. Artists and painters have made their way here for centuries, making Insadong art mecca.
After the Korean War, many art galleries moved in. Today, there are around 100 unique art galleries in the area which focus on traditional Korean art including paintings, sculptures, pottery, porcelain, and more.
Insadong is one of the best places in Seoul to find tea, calligraphy materials, folk crafts, antique furniture, hanbok (traditional clothing) and hanji (traditional paper). Many Korean ceramics, some dating back thousands of years, are bought and sold here everyday. Their prices range from a few won to million of won.
Many of the streets and alleys are blocked off to vehicles on Saturdays (14:00-22:00) and Sundays (10:00-22:00). This is the best and most popular time to visit.
Insadong is quite busy during this time, especially when the weather is nice. Walking down the streets of Insadong with thousands of other people, shopping in the many small stores and colorful shops, and trying out street foods is a great experience for anyone traveling to Seoul.
One recommend street food to try is hotteok. Hotteok is a sweet snack filled with nuts, brown sugar, and cinnamon. This tasty snack is great to have on a cold day. The vendor is easy to spot on Insadong-gil at Insadong 4-gil. There is usually a line of hungry people waiting patiently in line. The hotteok cost 1,000 won.
You will also see many people eating and walking with an interestingly shaped corn cookie snack that is filled with vanilla ice cream.
Insadong Information Center
The Insadong Information Center is located 100 meters west of Ssamziegil Market on the way to Jogyesa Temple. It is open everyday from 9:30 to 18:300 and offers information and interpretation services to tourists, free internet access, and the change to see and even wear hanbok (traditional clothing). Recordings about Korean culture in multiple languages are available to those who make reservations at least one week in advance.
Hours : 9:30-18:30 (Closed on Seollal and Chuseok)
Directions : From Ssamziegil Market, follow Insadong 11-gil for 100 meters.
There are also two small tourist information centers. The first is located north of Insadong, outside exit 6 of Anguk Station. It is open daily from 12:00 to 22:00. The second is located south of Insadong in front of Nam Insa Madang. It is open daily from 10:00 to 18:00.
Hours
24 Hours
Admission
Free
Getting Here
Option 1
Take Subway Line 3 to Anguk Station (Exit 6)
Continue straight for 100 meters and turn left.
Option 2
Take Subway Line 1 to Jonggak Station (Exit 3)
Continue straight for 300 meters and turn left.
Continue straight for 100 meters and turn left.
Map
Additional Resources
Save money while exploring Seoul with Rakuten's cashback program. By booking hotels through Rakuten, visitors can earn cashback rewards and enjoy significant savings. Exclusive partnerships and deals make stays in Seoul more affordable, freeing up funds for attractions, dining, and other experiences. I use Rakuten for cashback on all of my hotel stays in Seoul.
If you sign up using the link below, you will get $30 cashback after your first purchase.
Klook is a reliable online platform offering discounted tickets and reservations for attractions and services in Seoul. It covers theme parks, museums, transportation, WiFi, tours, and more. Travelers can save time and money by booking through Klook's user-friendly interface, with secure transactions and helpful customer support.
If you sign up using the link below, you will get $5 off your first order.
Learn more about Klook