Stunning views of Seoul can be seen from Naksan Park, set high above Daehangno on Mt. Naksan. A portion of the old fortress wall runs through the park. Naksan Park is sometimes called Nakta Park. The name of the park is a reference to its hump like appearance as "nakta" is the Korean word for camel. "San" means mountain.
Naksan, though only 100 meters (328 feet) in elevation, was designated a guardian mountain of the city during the Joseon Dynasty. Other guardian mountains were Bugaksan, Namsan, and Inwangsan.
Despite its modest scale, with a height of just over 100 meters, Naksan was one of the four guardian mountains, along with Bugaksan, Namsan, Inwangsan, of the capital of the Joseon Dynasty.
Yangban, members of the royal family, would visit this area often as they enjoyed the beauty and nature of the granite mountain, the wonderful views below, and the sunsets.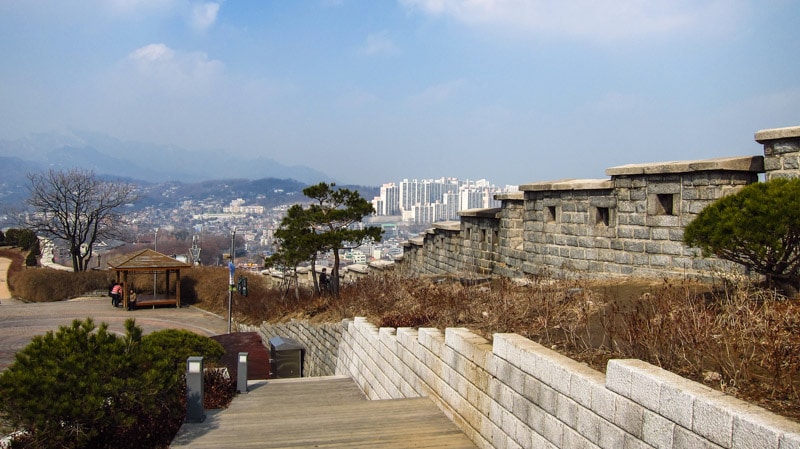 The Seoul Fortress Wall (Seoul Seonggwak) was also built during the Joseon Dynasty for protection against invaders and enemies. The wall now passes through the park as it stretches for 2 kilometers (1.24 miles) from Hyehwamun Gate (Honghwamun Gate) to Heunginjimun Gate (Dongdaemun Gate). The hike downhill towards Hyehwamun is well know by photographers and hikers for the views.
During the Japanese occupation of Korea, much of the land was built upon leading to the demolition of the natural beauty of the area.
In order to preserve the green spaces and natural beauty of the land and granite mountain, the area was designated a park on June 10, 2002.
Today, Naksan Park features multiple facilities including an exhibition hall, a pavilion, a center for seniors, basketball courts, badminton courts, and many squares that offer wonderful views of the area below.
Reaching the park requires a moderate hike uphill from Hyehwa Station in Daehangno for about 450 meters.
Hours
The park is open 24 hours.
Naksan Exhibition hall is open from 09:00-17:00.
Admission
Free
Getting Here
Take Subway Line 4 to Hyehwa (Exit 2).
Walk 70 meters and make the first left where there is the sculpture for Marronnier Park.
Continue on Daehak-ro 8ga-gil for 180 meters until it dead ends and make a right.
Continue for 50 meters and make at the second left on to Guldari-gil.
Continue uphill for 200 meters to reach the park on the left.
Map
Additional Resources
Save money while exploring Seoul with Rakuten's cashback program. By booking hotels through Rakuten, visitors can earn cashback rewards and enjoy significant savings. Exclusive partnerships and deals make stays in Seoul more affordable, freeing up funds for attractions, dining, and other experiences. I use Rakuten for cashback on all of my hotel stays in Seoul.
If you sign up using the link below, you will get $30 cashback after your first purchase.
Klook is a reliable online platform offering discounted tickets and reservations for attractions and services in Seoul. It covers theme parks, museums, transportation, WiFi, tours, and more. Travelers can save time and money by booking through Klook's user-friendly interface, with secure transactions and helpful customer support.
If you sign up using the link below, you will get $5 off your first order.
Learn more about Klook