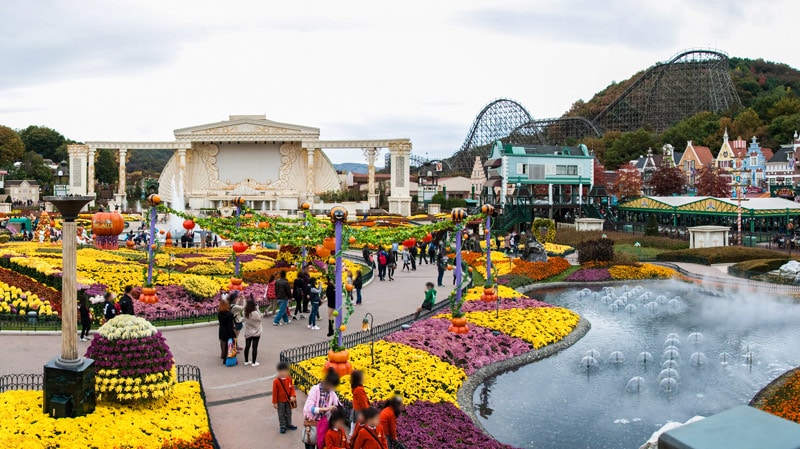 Everland Resort, located south of Seoul in Yongin, Gyeonggi-do, is a large theme park, zoo, and water park, visited by 6.6 million visitors each year. The park, operated by the Samsung Group, was opened in 1976.
The main attraction of the resort is the Everland theme park, known as Ebeoraendeu in Korean. Here, visitors will find fantasy buildings, a wide variety of exhilarating attractions and rides, gardens, parades, and music.
Everland Sections
American Adventure : American Adventure is an American history themed section featuring wild west rides and rodeo themed attractions. The Rock Ville section features American music from the 1950s along with a spin ride and roller coaster.
European Adventure : European Adventure is an European themed area which features European style restaurants, a flower garden, games, arcades along with a Mystery Mansion themed ride where visitors shoot at ghosts and "T Express," the first wooden roller coaster in Korea.
Global Fair : At the Global Fair you will find restaurants and souvenir shops for visitors as they enter and exit the park. It is here where visitors will also find storage lockers and stroller rentals.
Magic Land : Magic Land features buildings and rides based on characters and themes of the fables of Aesop, and Ancient Greek storyteller. Attractions here include a log flume ride, a flying ride, and a robot ride along with a variety of restaurants and snack foods.
ZooTopia : ZooTopia is a mysterious animal themed world where visitors can learn about the special bond between humans and animals. It is here where you can ride ponies and view polar bears, monkeys, sea lions, penguins, birds, and tigers.