Bangsan Baking Market is a traditional wholesale market where you can find some of the best baking and cooking supplies used by chefs all across Seoul. Over 500 stores supply professional chefs and home cooks with all sorts of baking and cooking items at competitive bulk prices.
Other items sold here include packaging, shipping, printing, and manufacturing goods.
During the Joseon Dynasty, this area was neglected and became well known for its horrible smells. People started calling the area bangsan and this is how the market got its name. Ironically, bang is the Korean word for "fragrant."
Bangsan Baking Market may not be as large as nearby Dongdaemun Market or Gwangjang Market, but here you can find unique baking items and supplies that are tough or even impossible to find anywhere else in Seoul or Korea.
Anything you need related to baking or cooking can probably be found here or it most likely does not exist.
The market has become especially popular with chefs who come here looking for supplies such as cooking pans, blenders, measuring cups, cutting boards, decorating tips, pastry bags, knives, ovens, microwaves, mixers, and more.
Pastry chefs will be surprised to find a large variety of baking chocolate, flour, baking soda, pastry molds for cupcakes and cakes, cookies, chocolate, sprinkles, dried fruits such as raisins, cocoa, nuts, and muffins.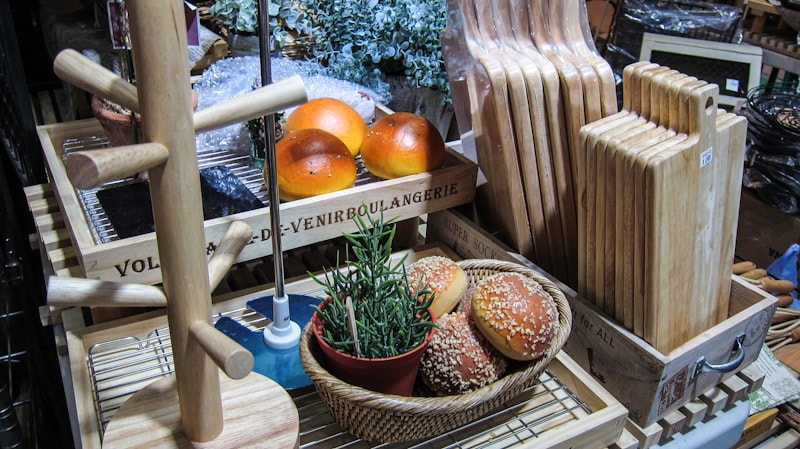 Some items that you would not expect to find in Korea include stone ground whole wheat flour, cream of tartar, pumpkin puree, molasses, flavorings, extracts, and dark rye flour.
Prices here are competitive. When you buy in bulk or purchase something expensive, make sure you haggle the price down to try to get the best deal possible.
D&B "Baking Mall" offers pastry tips, oven mitts, measuring cups, spoons, scales, spatulas, and other utensils. It also has a large variety of pans, molds, and cutters for cakes, cupcakes, and cookies. They also specialize in more expensive mixers such as KitchenAid. Mixers are about 500,000 won each, but the friendly staff is usually more than happy to lower the price on big ticket items.
Saero offers a small but good selection of cake and cupcake boxes and packages. Most of these boxes have handles for easier transport or have windows so you can peak inside for a look. They also offer box decorations and ribbons.
Happy Baking runs a shop that delivers baking supplies and ingredients. You can check out their website at www.happybaking.com, but it is only in Korean.
In 2011, the Seoul Metropolitan Government designated Bangsan Baking Market a tourist destination which has helped preserve the traditional market and improved the image of the market for both locals and tourists.