Bongeunsa Temple
Bongeunsa Temple is a Buddhist temple that dates back to 794 located south of the Han River and just north of the COEX Mall in Gangnam-gu. It was originally known as Gyeonseongsa when first built. This was during the rule of King Wonseong of Silla. Its location was 1 kilometer (0.6 miles) southwest of its current location.
Click here to read more about Bongeunsa Temple.
Bongwonsa Temple
Bongwonsa Temple is a Buddhist temple dating back 1,000 years located at the foot of Ansan Mountain in Bongwon-dong. The temple was known as Banyasa when founded by Master Dosun in 889. It was originally located on the grounds of modern day Yonsei University.
Click here to read more about Bongwonsa Temple.
Cheondogyo Central Temple
When Cheondogyo Central Temple was built between 1918 and 1921 it was used as a temple of Cheondoism, a 20th century Korean religious movement. Cheondogyo literally means "religion of the Heavenly Way."
Click here to read more about Cheondogyo Central Temple.
Daeseongsa Temple
Click here to read more about Daeseongsa Temple.
Doseonsa Temple
Click here to read more about Doseonsa Temple.
Gilsangsa Temple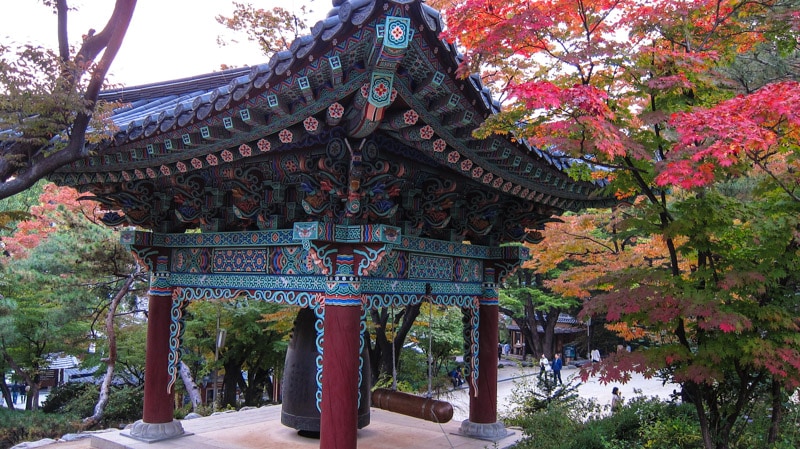 Gilsangsa Temple is a fairly new and popular Buddhist temple complex surrounded by nature and beauty in hills of Seongbuk-dong, a neighborhood of Seoul. Since 1997, Gilsangsa has become popular with both locals and tourists for its harmony with nature.
Click here to read more about Gilsangsa Temple.
Hwagyesa Temple
Hwagyesa Temple, of the Chogye Order, is a Buddhist temple surrounded by beautiful scenery at the foot of Mt. Samgaksan in Suyu-dong, Gangbuk-gu. Walking around the peaceful temple grounds surrounded by mountains, running streams, and nature makes any visitor feel like they are far from the urban maze of Seoul.
Click here to read more about Hwagyesa Temple.
Inwangsa Temple
Buddhist temple on hidden on Mt. Inwangsan
Click here to read more about Inwangsa Temple.
Jingwansa Temple
Click here to read more about Jingwansa Temple.
Jogyesa Temple
Jogyesa Temple is one of the most important Buddhist temples in Korea and a symbol of Korean Buddhism. It is located in the heart of the city near Insadong. Since 1936, it has been the head temple of the first district of the Jogye Order of Korea Buddhism.
Click here to read more about Jogyesa Temple.
Myogaksa Temple
Myogaksa Temple is a small and hidden Buddhist temple located on the side of Mt. Naksan in the quiet residential district of Jongno-gu, Sungin-dong. Getting to the temple requires a short but uphill walk up Choui-ro street from Dongmyo Station below. Myogaksa was established in May 1930 by Monk Taeheo Hongseon.