Seoul Baekje Museum preserves the history and culture of the Baekje kingdom which established the capital of Hanseong which later would become Seoul. The history of Seoul dates back thousands of years when the Baekje kingdom flourished on the banks of the Hangang River. Artifacts and displays in the museum focus on prehistoric times and on the 500 year history of the Baekje from 18 B.C. to 475 A.D. The museum is located at Olympic Park.
Exhibition Hall 1, located on Floor B1F, focuses on the Prehistory of Seoul during the Paleolithic, Neolithic, Bronze, and Iron Ages. Artifacts in this hall include hand axes, pottery, and bottom round jars.
These artifacts date back to prehistoric times long before the city of Seoul was established.
In 18 BC, the Baekje kingdom was established on the banks of the Han River. The kingdom, which was part of a larger group of states known the Mahan confederacy, was one of the Three Kingdoms of Korea. The other two kingdoms were Goguryeo and Silla.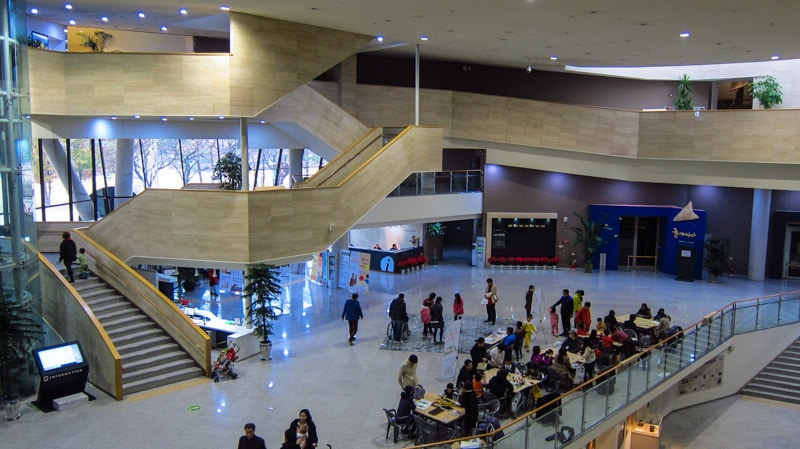 Exhibition Hall 2, located on Floor 1F, is titled Hanseong, the Capital of Baekje. It displays artifacts that focus on the foundation and growth of the Baekje kingdom over its 500 year history, how people of the kingdom lived day to day, and how foreign relations with other countries were handled.
Artifacts include a gilt bronze cap and shoes, tripod cauldron with a handle, and a seven branched sword known as a chiljido. Other interesting pieces include replicas of Pungnaptoseong Fortress, Mongchontoseong Fortress, and a wooden ship which represents the maritime power, prosperity, and spirit of the Baekje kingdom at the time.
The replica of the Pungnaptoseong earthen fortress is found in the lobby of the entrance of the museum. This cross section of the wall is 43 meters wide (141 feet) and 9 to 11 meters (29 to 36 feet) high.
Exhibition Hall 3, located on Floor 1F, is titled Rivalry of Three Kingdoms. It tells the story and displays artifacts from the period when Baekje, Goguryeo, and Silla battled one another for control of the Hangang River.
The exhibit also tells the story of Goguryeo and Silla during their reign over the Hangang River. At this time, Baekje and Hanseong fell to military threat and relocated to Ungjin and Sabi. Artifacts found in this hall include lotus pattern roof titles, long neck jars, and a wooden pensive Bodhisattva.
Other than exhibition halls, visitors to the museum will find a library, with various domestic and international books and journals, and an education room on Floor B2F. A 4D theater with state of the art technology can be found on Floor 1F. Floor 2F features a cafeteria and and outdoor open air exhibition and viewing area.