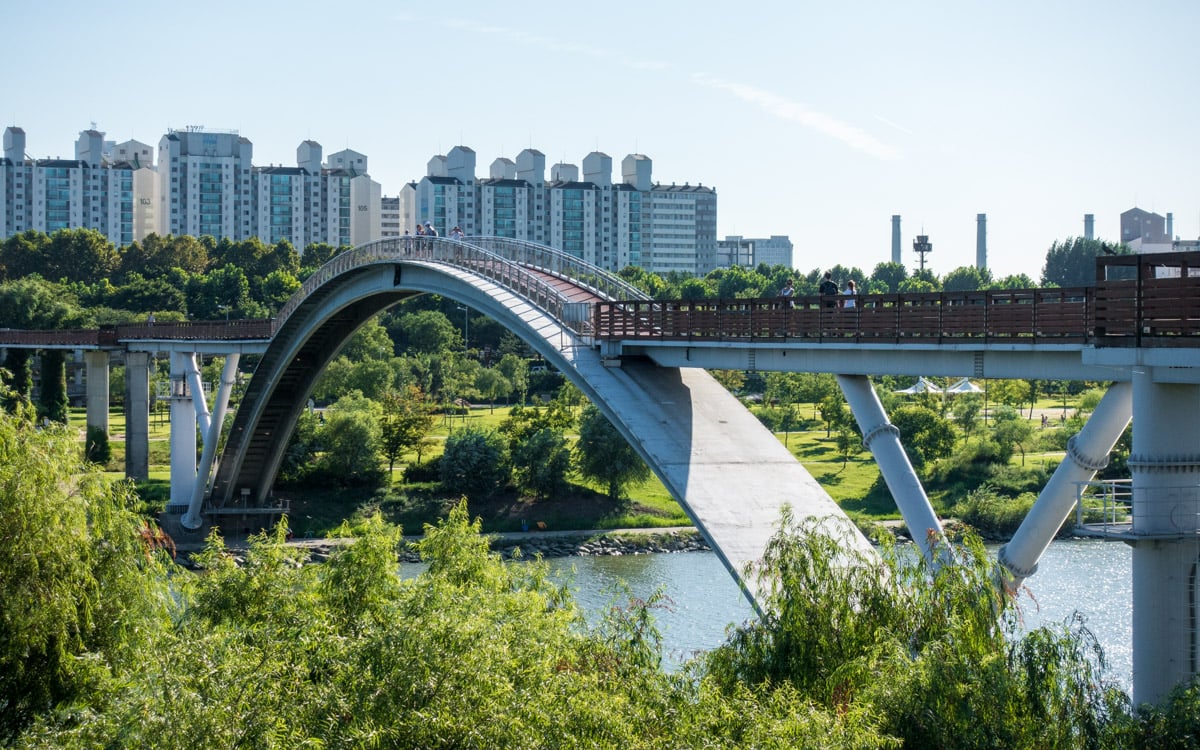 Seonyudo Bridge is a pedestrian only footbridge that connects Yanghwa-dong in the south to Seonyudo Park located on the Hangang River. The name means "spending time idly in the scenic heaven." It is also known as the footbridge of peace.
This beautifully arched bridge was designed by French architect Rudy Ricciotti to commemorate the 100th anniversary of diplomatic relations between Korea and France.
It was made using environmentally friendly materials such as high strength concrete and wood flooring and handrails. The idea was to make the structure as natural as possible so to fit perfectly and blend into the surrounding environment.
Start your walk across and stop at the highest point in the arch. Now take in the wonderful 360 degree views of Seoul. The views of the city and the river from up here are amazing. If you look in the distance you might even be able to see the N Seoul Tower and the 63 Square (63 Building).
The viewing during the day is great but the best time to view it is at night. It is then when red, yellow, blue, and green lights illuminate the whole bridge in a magical and awe inspiring scene.
Hours
Seonyudo Bridge
24 hours
Seonyudo Park
6:00-24:00
Admission
Free
Getting Here
Take Subway Line 2 to Dangsan Station (Exit 1).
From the station, take bus 605, 6623, 6631, 6632, or 6633 to Hanshin Apt.