Lotte World is an entertainment area with the largest indoor theme park in the world, an outdoor amusement park, mall, hotel, museum, and ice skating rink.
Since opening in July 1989, Lotte World has received millions of visitors making it one of the first class theme parks in Asia and in the world.
Lotte World is separated into two theme parks. The indoor park is known as "Lotte World Adventure." The outdoor park is known as "Lotte World Magic Island."
The "Lotte World Adventure" theme park features an assortment of rides including a Jurassic Era flume ride, a balloon ride that gives a bird's-eye view of the park, a high octane roller coaster, a giant loop ride, a monorail, and a jungle inspired boat ride.
The "Lotte World Magic Island" theme park features two free fall rides, a haunted house, bumper cars, a space themed roller coaster, a gyro swing, a magic show, a kiddie land, a children's driving ride, and a cruise on Seokchon Lake.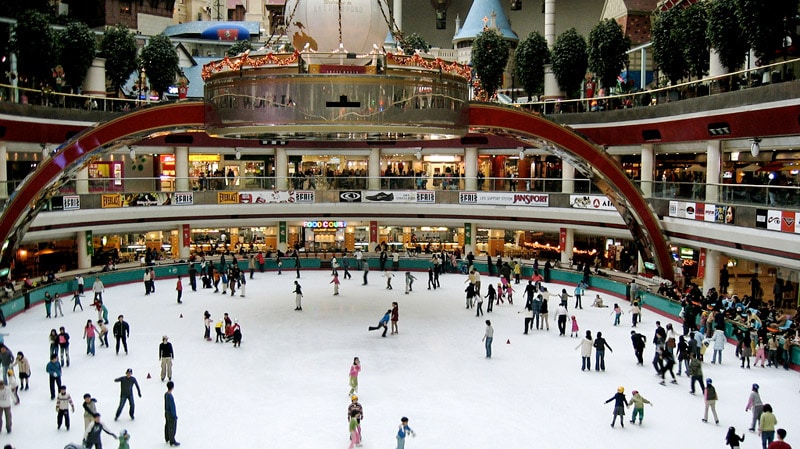 A year round ice skating rink can be found on floor B3. The rink is perfect for those who are ice skating for their first time or for those who are experienced. Ice skating is a great way to spend the day with your family or on a date, especially on a hot summer day. Ice skate rentals are available along with a restaurant, sports shop, and snack bar. The ice skating hours are 10:30 to 22:30.
Popular with tourists is the Folk Museum. Here, visitors can learn of the history of Korea and view interesting displays of cultural items that date back thousands of years. Items here include miniature models of villages and palaces, pottery, a model dinosaur, statues, paintings, and clothing.