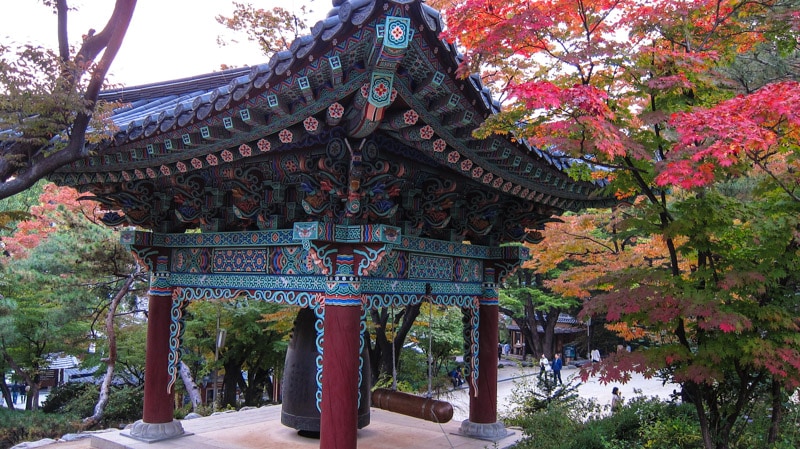 Gilsangsa Temple is a fairly new and popular Buddhist temple complex surrounded by nature and beauty in hills of Seongbuk-dong, a neighborhood of Seoul. Since 1997, Gilsangsa has become popular with both locals and tourists for its harmony with nature.
Originally, an upscale restaurant known as Daewongak was built at this location. The owner of the restaurant decided to donate the land and buildings to Venerable Bupjeong (1932-2010), a Buddhist monk. In 1997, he decided to convert the restaurant into Gilsangsa Temple.
The complex still contains original features of the restaurant which is unusual for Buddhist temples in Korea.
The temple is located in an area surrounded by natural beauty. It is peaceful environment. One of the most enjoyable ways to experience the beauty here is to just walk the complex grounds. Take in all the stunning views and sights.
The main hall is Geukrakjeon (Hall of Ultimate Bliss). It is where Amitabha Buddha is enshrined.
Gilsang Seonwon (Zen Center) is dedicated to the practice of meditation. There is also another mediation room known as the House of Silence. It is open from 1000 to 1700.
Many Buddhist programs are offered here including a templestay program, Buddhist teachings classes, a zen center, and a public meditation room.
The templestay program is a great way for tourists to learn what it is like for a monk to live at a temple. This overnight program is available on the fourth weekend of every month and costs 30,000 won per person.
Hours
Daily : 4:00-20:30
Admission
Free
Getting Here
Take Subway Line 4 to Hansung University Station (Exit 6).
After exiting, walk 50m to Dongwon Mart just past the regular bus stop. From here, there is a shuttle bus to Gilsangsa Temple. The shuttle bus departs at 8:30, 9:20, 9:40, 10:00, 12:00, 13:00, 15:00, and 16:30.
Another option is to take bus 1111 or 2112. Get off at the 2nd stop. From here, turn right at the first light and continue walking for 10 minutes.
It is a 20 minute uphill walk from Hansung University Station (Exit 6) to the temple.
Map
Additional Resources
Save money while exploring Seoul with Rakuten's cashback program. By booking hotels through Rakuten, visitors can earn cashback rewards and enjoy significant savings. Exclusive partnerships and deals make stays in Seoul more affordable, freeing up funds for attractions, dining, and other experiences. I use Rakuten for cashback on all of my hotel stays in Seoul.
If you sign up using the link below, you will get $30 cashback after your first purchase.
Klook is a reliable online platform offering discounted tickets and reservations for attractions and services in Seoul. It covers theme parks, museums, transportation, WiFi, tours, and more. Travelers can save time and money by booking through Klook's user-friendly interface, with secure transactions and helpful customer support.
If you sign up using the link below, you will get $5 off your first order.
Learn more about Klook