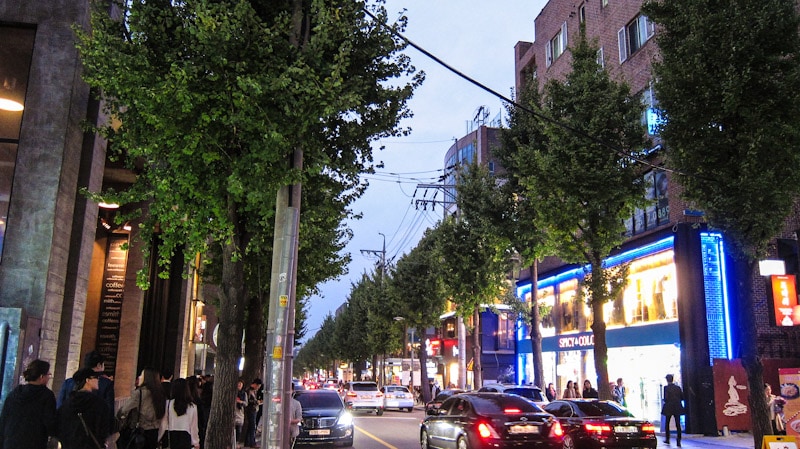 Garosu-gil, also known as "Tree Lined Street," is an upscale and trendy shopping and art district located south of the Han River in Sinsa-dong, Gangnam-gu. It is here where locals and tourists, couples, and photographers come to shop, eat, drink, take photos, and just enjoy Seoul and the good life.
The pretty area of Garosu-gil, which is lined with large and beautiful green ginkgo trees, runs for less than a half mile through Sinsa-dong and Gangnam. Many compare this area to SoHo in New York or to a street in a European city such as Paris. It is not uncommon to see someone famous here.
In the 1980s, the area was the home of many art galleries. In the 1990s, small shops started to appear. In the last ten years, modern stores and designer shops opened.
Many of the shops and stores were started by or now operated by designers and artists who studied in other countries and then returned to Korea.
Today, Garosu-gil is one of the best places in Seoul to shop for both premier name brand goods and goods designed by local designers and artists.
If you love food and are looking for a great place to have dinner, then just walk down any of the side streets around Garosu-gil and you will find a wide variety of delicious international and Korean restaurants and cafes of all price ranges.
The area is a wonderful place to go for a walk, have a drink, shop, have a meal, or just slow down and people watch.
Garosu-gil is also a great place for photographers. It's not uncommon to encounter models and photographers who are taking photos for advertisements on the beautiful tree lined street.
Garosu-gil is a perfect blend of old and new. The area combines chic restaurants, shops, cafes, art galleries, jazz clubs, bars, and more while still preserving a little bit of the past. Garosu-gil is also a great place to window shop even if you can't afford to pay the high prices to shop here.
In a city as large as Seoul, Garosu-gil is a breath of fresh air when compared to other neighborhoods. It has a small town European charm to it which surprises many of its visitors who are use to a big, crowded, and fast paced city.
Hours
24 hours
Admission
Free
Getting Here
Take Subway Line 3 to Sinsa Station (Exit 8).
Continue 240 meters and turn left on Dosan-daero 13-gil towards Garosu-gil.
Additional Resources
Save money while exploring Seoul with Rakuten's cashback program. By booking hotels through Rakuten, visitors can earn cashback rewards and enjoy significant savings. Exclusive partnerships and deals make stays in Seoul more affordable, freeing up funds for attractions, dining, and other experiences. I use Rakuten for cashback on all of my hotel stays in Seoul.
If you sign up using the link below, you will get $30 cashback after your first purchase.
Klook is a reliable online platform offering discounted tickets and reservations for attractions and services in Seoul. It covers theme parks, museums, transportation, WiFi, tours, and more. Travelers can save time and money by booking through Klook's user-friendly interface, with secure transactions and helpful customer support.
If you sign up using the link below, you will get $5 off your first order.
Learn more about Klook