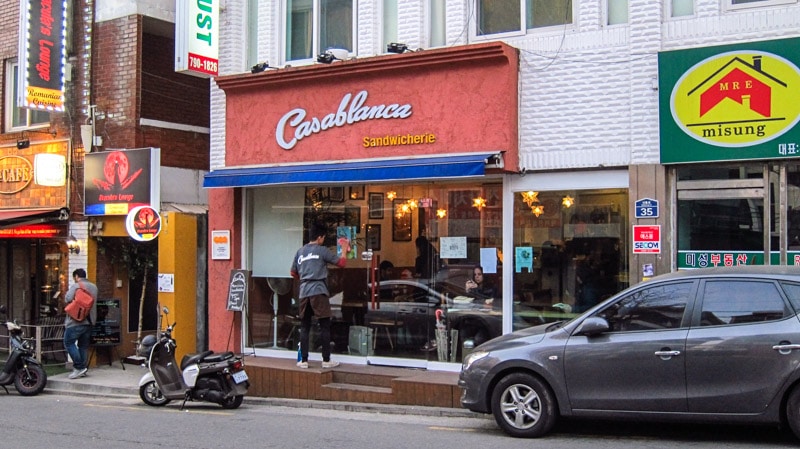 Casablanca Sandwicherie is a small but popular restaurant in Haebangcheon where you can find some of the tastiest sandwiches, salads, and soups in Seoul. Casablanca Sandwicherie is best known for the Moroccan chicken sandwich. The restaurant is run by two brothers and chefs, Wahid Naciri and Karim Naciri.
The main street through Haebangcheon is lined with a large selection of busy restaurants at all hours of the day. Casablanca Sandwicherie is no different. It is always busy but luckily the Haebangcheon area is still somewhat unknown to most tourists and locals.
Hours can vary, but the restaurant usually opens at 5pm and stays open until around 10:30pm or until they run out of bread. Closed on Mondays.
A good sandwich is hard to come by in Seoul. If you visit Casablanca Sandwicherie, expect to find filling sandwiches priced reasonably at 5,000 to 6000 won. This is a great deal considering just next door is the pricey and touristy Itaewon. Not surprisingly, since Casablanca Sandwicherie opened it has gained an almost cult following. The popularity of the restaurant has increased mainly by word of mouth and quality of food.
When you visit, more often than not, all the tables will be full. Lucky for you, Casablanca Sandwicherie takes to go orders if you choose. A few tips if you are planning to visit : cash only and be prepared to wait at least ten minutes for your food to be prepared, longer on weekends or when it is busy. You can't rush quality.
The menu here is small and simple but done the right way. You have your choice of five sandwiches (Veggie, Moroccan Chicken, Berber Omelette, Lamb Chili, Spiced Shrimp) and three sides (Lentil Soup, Moroccan Salad, Spiced Carrot Salad). Don't let the small menu fool you as the quality of the food and ingredients is better than anything else you will find in Seoul.
The Lentil Soup (2,000 won) is quite small but has great texture and a spicy and earthy flavor. The dish is simple with lentils and herbs but tastes great and makes a great side dish for any of the awesome sandwiches.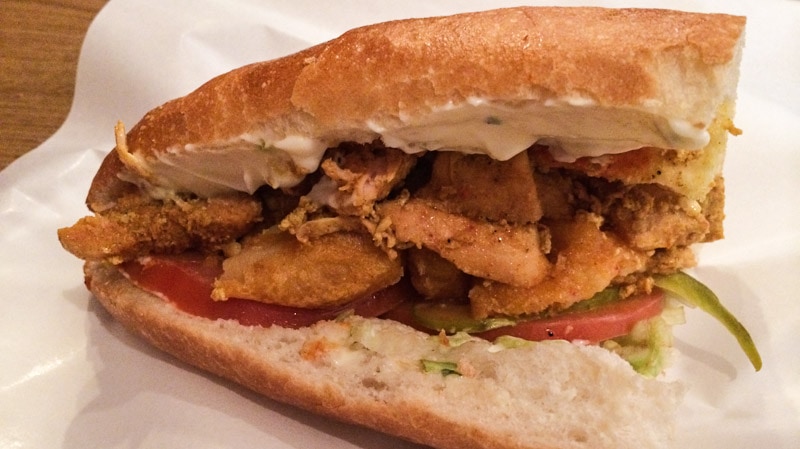 The specialty dish here is the Moroccan Chicken Sandwich (6,000 won). Starting with the French bread. The bread as fresh as it comes from a local Syrian bakery in Itaewon. It is soft on the inside while crispy and perfectly toasted on the outside. The perfect mixture of softness, crust, and taste is something you never would expect to find in Korea. In addition, the bread portion is a large, so don't expect to go home hungry.
The chicken filling on the inside is equally as delicious. The chicken is marinated overnight in a mixture of lemons, olive oil, garlic, and a spicy Moroccan spice blend known as "ras el hanout." Marinating the chicken overnight ensures that it is spicy yet moist and flavorful, which no doubt it is. The portion size, similar to the size of the bread, is also larger than you would expect, especially for the price.
Another interesting ingredient added to the mix, which may surprise you, are fried mashed potatoes. This is known as makooda, which is commonly found as a street food in Morocco. Mashed potatoes are added to hot oil until they are crispy. Mix together the chicken, makooda fried mashed potatoes, add a few slices of tomatoes, pickles and olives, spread a little mayonnaise around, and you have yourself a match made in heaven.
The Moroccan Chicken Sandwich served here is by far one of the best sandwiches found anywhere in Seoul. This is why Casablanca Sandwicherie is always busy.
Hours
Tuesday-Sunday : 17:00-22:00
Closed on Mondays
Directions
Take Subway Line 6 to Noksapyeong Station (Exit 2).
Continue for 300 meters and continue to the left of the fork onto Sinheung-ro.
Continue 350 meters to reach the restaurant on the left.
Casablanca Sandwicherie
Yongsan-gu, Yongsan-dong 2ga 44-7 Seoul, Korea 140-842
Map